Travel to Marrakech the Paris of Morocco – Your Morocco Travel Guide
Marrakech is the Paris of Morocco and known as the "red city" or Al Hamra. As the capital of tourism, Marrakech is Morocco's leading Imperial city and one of the most exciting cities to travel to on vacation. The heart of Marrakech is the best place to begin your tour with its souks, lush gardens, historical monuments, museums, palaces, sacred tombs and snake charmers. Marrakech also offers some of the best shopping in Morocco at its souks located within the old medina. As a Moroccan traveler a visit to Marrakech is a must. Make sure to allow yourself a minimum of two-days and spend at least one with a Morocco Travel licensed guide.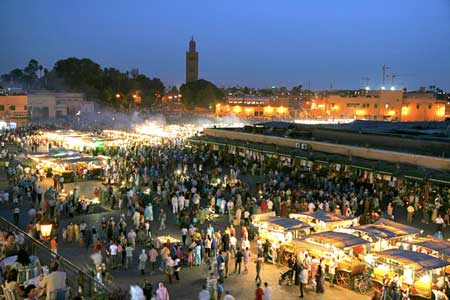 Djema Fna Square at Night in Marrakech Morocco
Travel Exploration Morocco's Top 10 Sites to visit on Your Marrakech Vacation.
1. Djemaa El Fna Square
2. Koutoubia Minaret & Koutoubia Gardens
3. El Bahia Place
4. The Majorelle Gardens
5. The Sadian Tombs
6. The Menara Gardens
7. The Sadian Tombs
8. The Marrakech Medina
9. The Old Jewish Mellah
10. Ben Youssef Mederssa
More information about Marrakech Tours on Morocco Travel Exploration
For more information about Travel and Tours to Morocco plus highlights on Moroccan culture visit Morocco's Imperial Cities, Seaside Resorts, Sahara Desert, Berber villages, A Taste of Morocco, Magical Kasbahs, Ruins & Waterfalls, Absolute Morocco, The Best of Marrakech, Fes, and Ouarzazate.
Marrakech Morocco Travel, Marrakech Travel Exploration, Marrakech Travel Tour, Morocco Travel, Morocco Travel Tours, Discover Morocco, Morocco Travel Exploration
Travel Exploration specializes in Morocco Travel. We provide Tours and travel opportunities to Morocco for the independent traveler and tailor-made tours for families and groups with a distinctly unique flavor. From Morocco's Seven Imperial Cities, to the Magical Sahara Travel Exploration offers a captivating experience that will inspire you. At Travel Exploration we guarantee that you will discover the best of Morocco! Google on call Travel Exploration at 1 (800) 787-8806 or 1 (917)703-2078 or (212) 661-4898-960 and let's book a tour to Morocco for you today.
Tags: Discover Morocco, Marrakech Morocco Travel, Marrakech Travel Exploration,Marrakech Travel Tour, Morocco Travel, Morocco Travel Exploration, Morocco Travel Tours