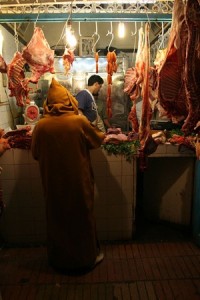 Near the vegetable and fruit markets (souks) in Morocco, you will easily spot the meat market; small stalls specializing in particular meats: one for beef, one for lamb, one for poultry; even one for offal, or innards. These are open-air affairs. If you're squeamish and used to the refrigerated, hormone-filled shrink-wrapped proteins in America, relax! Moroccans and other cultures have been shopping in this manner for centuries with no harm done. Also remember, when you're cooking meat, poultry or fish, the high heat will effectively burn off any dust from the market.
Now don't think you can sidle up and order a T-bone steak. In Morocco, the cuts of meat are not the same as in the US or EU. Also remember, the preferred method of preparing meat here is either to stew or to grill (en brochette).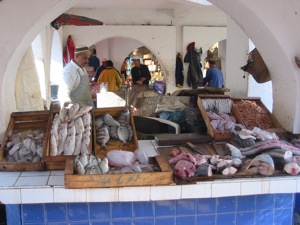 If the Moroccan town you are living in or staying is near the ocean, there will be a fish market. It is normally a building where various competitive vendors hawk their catch of the day. Be careful underfoot ~ ice melting makes for slippery footing! You may be lucky to be on the wharf when the fishing boats come in. There, fish mongers quickly clean the fish and offer it for sale tout suite. When you see the seagulls circling and crying, it's probably because the fish innards are being thrown back into the ocean and the gulls are happy catching their lunch.
A true delight for American and Europeans is the egg vendor: Brown, white, speckled, maybe goose or duck eggs as well as chicken; Believe me ~ you may purchase a single egg! The vendor will place your egg/s in a flimsy plastic bag and you should say a little prayer to get it home without cracking. Taking an empty 6-pack cardboard egg crate to transport eggs is the best way to ensure they get home safely.
The most tasteful eggs in Morocco available are called "beldi" and come from Beldi chickens. They are natural (a form of organic eggs) and often brown or black. Beldi chickens are breed by local farmers in Morocco. These types of eggs are often best eaten boiled or used in recipes.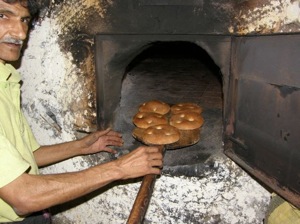 Bread is baked at local ovens being most traditional homes in the old medinas (cities) do not have individual ovens.  Women take their freshly baked bread in a small wheeled cart bearing their aromatic delights on a tray to the baker each morning and come back to retrieve it shortly after. One can purchase various kinds of single Moroccan warm flat breads for just under five cents. YUM!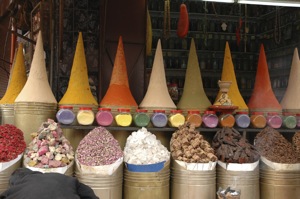 My favorite market is the spice market. Vendors sculpt mounds of spices into great colorful cones of unbelievable sizes, some 2 ft high, arranged to entice the customer with their gorgeous hues. Each vendor has his own spice blends. One for poultry; one for fish; another for lamb, etc. Ras al hanout, translated as "spice of the house," is used in tagines (stew). These are my favorite souvenirs to bring home but make sure you label them! Some are advertised with medicinal properties (e.g., "Moroccan Viagra," "Acme cure," etc.) These can be brought home as souvenirs as a goof for your family & friends. All I can advise: Buyer Beware!
In any case, it's wise to go shopping with a sense of adventure and wonder.
And HUMOR! Moroccans are the friendliest people on earth and love a laugh. No common language required.
Happy Shopping!
By Freya Ellinwood, Morocco Travel Writer
For more information about Moroccan local markets,meat, fish and spice markets or cuisine tours
For more information about Travel and Tours to Morocco plus highlights on Moroccan culture visit Morocco's Imperial Cities, Seaside Resorts,Sahara Desert, Berber villages, A Taste of Morocco, Magical Kasbahs, Ruins & Waterfalls, Absolute Morocco, The Best ofMarrakech, Fes, and Ouarzazate
Travel Exploration specializes in Morocco Travel.We provide Tours and travel opportunities to Morocco for the independent traveler and tailor-made tours for families and groups with a distinctly unique flavor. From Morocco's Seven Imperial Cities, to the Magical Sahara Travel Exploration offers a captivating experience that will inspire you. At Travel Exploration we guarantee that you will discover the best of Morocco! Call Travel Exploration at 1 (800) 787-8806 or 1 (917)703-2078 and let's book a tour to Morocco for you today.
Souks of Morocco, Moroccan souks, Shopping in Morocco, Souk shopping in Morocco, Moroccan meat markets, Moroccan fish markets, Moroccan Spice markets, Moroccan farmer, Moroccan markets, Morocco Holidays, Morocco Travel, Travel Exploration, Travel to Morocco