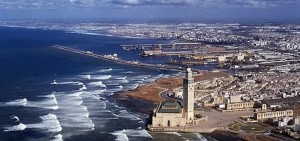 Casablanca is Morocco's largest city as well as the its chief port. As the biggest city in Morocco, Casablanca is the primary place where cruise ships dock. A Casablanca site seeing tour is the best way to spend the day ashore when arriving on a cruise. Many Holland America Cruises and Oceania Cruises dock in Casablanca overnight or for the day. With 24 hours in Casablanca there's a lot to see and do. A site seeing excursion that offers a little taste of Morocco is the perfect way to get to know this fascinating city who made its name in the 1940's film "Casablanca."
There are various types of site seeing Casablanca tours that can be arranged:
Casablanca Architectural Tour: A Casablanca Architectural Tour includes visiting the Hassan II Mosque, Saint Catherine's Church and the Art Deco District along with other architectural interests. The option of having lunch in Rick's Café, an architectural haven in Casablanca is available.
Casablanca Jewish Heritage Tour: A Casablanca Jewish Heritage Tour includes visiting the Jewish Museum in Casablanca, the Jewish Synagogue, and the old Jewish Mellah in the medina. The option of a kosher Jewish lunch is also available.
Casablanca Site seeing Tour: A Casablanca Site seeing Tour includes visiting Casablanca's Hassan II Mosque, Parks, the Art Deco Distrcit and other fascintating sites and monuments. Lunch at Casablanca's seaside corniche is the best way to top off the visit
For more information about an Casablanca Tour
For more information about Travel and Tours to Morocco plus highlights on Moroccan culture visit Morocco's Imperial Cities, Seaside Resorts,Sahara Desert, Berber villages, A Taste of Morocco, Magical Kasbahs, Ruins & Waterfalls, Absolute Morocco, The Best ofMarrakech, Fes, and Ouarzazate
Travel Exploration specializes in Morocco Travel. We provide Tours and travel opportunities to Morocco for the independent traveler and tailor-made tours for families and groups with a distinctly unique flavor. From Morocco's Seven Imperial Cities, to the Magical Sahara Travel Exploration offers a captivating experience that will inspire you. At Travel Exploration we guarantee that you will discover the best of Morocco! Call Travel Exploration at 1 (800) 787-8806 or 1 (917)703-2078 and let's book a tour to Morocco for you today.
Casablanca tours, Casablanca site seeing tours, Casablanca Architectural tour, Casablanca Jewish Heritage Tour, Casablanca, Holland America Cruises, Oceania Cruses, Hassan II Mosque, Jewish Museum Casablanca, Art Deco District Casablanca, Rick's Cafe, Corniche, Casablanca Port, 24 Hours in Casablanca 1940's film, Morocco Holidays, Morocco Travel, Travel Exploration, Travel to Morocco